TIRE INFLATION & DEFLATION
Getting on and off the trail just got a lot faster with our innovative line of inflation and deflation products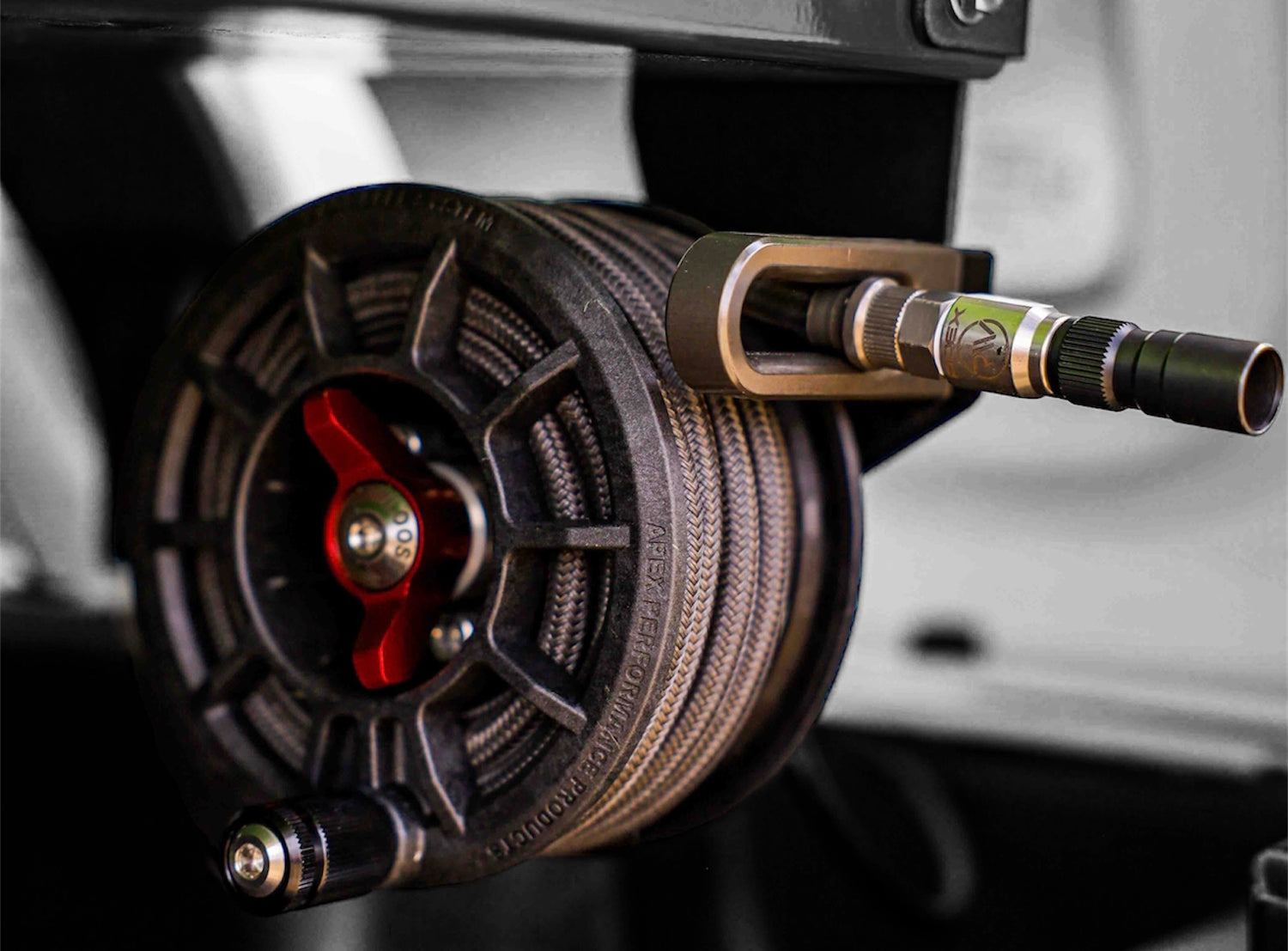 compact reel system [CRS]
The Compact Reel System is a game changer when it comes to mobile air inflation. Compact and universal in design--It works in a wide variety of applications!
Let customers speak for us
Reel good
REEL good addition to my setup
Mad dogs
Great product and super fast shipping
Boxed to perfection
Love it
Will continue to make more purchases for a overland campers
Cheers
Ben from BRS offroad Australia 🇦🇺
Great Sway Bar Disconnet
Took off the the old style pin type and installed Apex without any problems. Used it on an 11 hour off road trail from Alamo, Nevada to Caliente, Nevada and back to Alamo. Easy to disconnect and connect. Several Jeep from Desert Wranglers had them installed on this ride.
Long awaited option
This reel fits the bill in all ways, this sport has need this product for far to long and Apex killed it, can't wait to see different mounting options for other platforms will be ordered three more here soon!
CRS UNIVERSAL MOUNTING BRACKET
Extremely convenient and functional
SWAY BAR DISCONNECT
I have not install them yet still waiting on my jeep to come but they look super nice and high quility looking forward to getting them install on my Jeep Gladiator High Altitude also have the power steering boster as well should be great set up
Valve cap covers
I purchased the "v.c.c." with lanyard without purchasing their rapid valve deflator valves since I have AEV rims. So before opening the packaging I emailed on a weekend thinking I would get a reply on the following business day and the reply was immediate. Good customer service is something I can appreciate along with a good product. Their next product I'm eyeing are their quick disconnect. They look amazing
Quality Valve Stems
I've just gotten the RPV's installed on my wheels. I haven't tried them yet but seem to be a quality product. The tire techs at Discount Tire thought they were nice as well. Planning to get the high flow chuck as well.
Great upgrade!
Great upgrade to my existing air hose.
Fantastic Product
I received and installed my 8" Apex Autolynx on my 2021 Jeep Gladiator Mojave with 2" AEV lift. Installation was straightforward and took me about 2 hours. The Autolynx perform well and make disconnecting super easy. I have zero rub on my fender liners and they look great! I highly recommend these for those looking for disconnects. Thanks again!!
Stellar Product
Quality, fit, finish and utility are all top notch. Excited to purchase additional products from Apex!
Awesome Hose and Reel
Awesome Hose and Reel. Works Great on our CanAm Commander! Easy and very convenient to use for re-inflating the tires. The 20' hose makes it easy to fill others tires. Love the size and the looks of the CRS