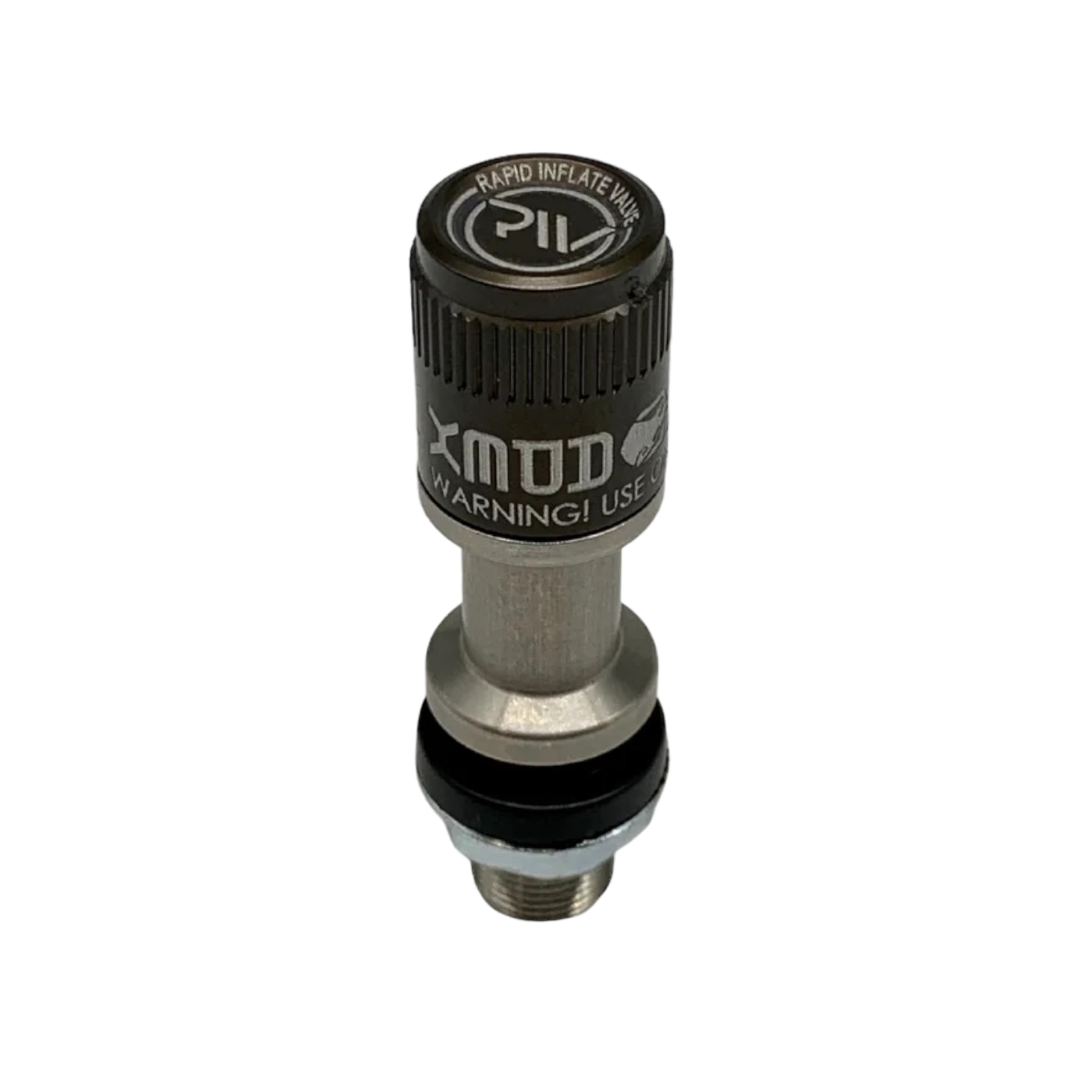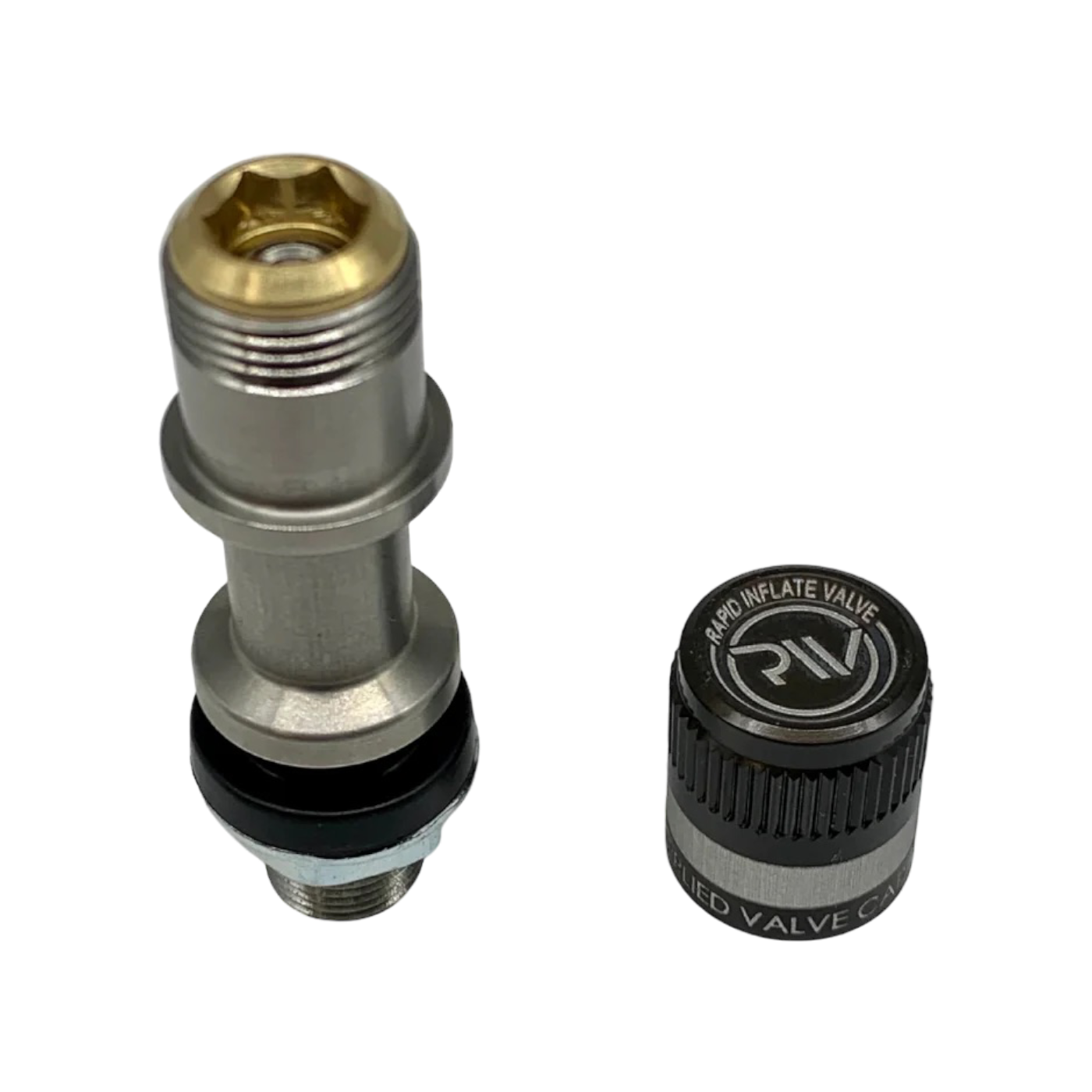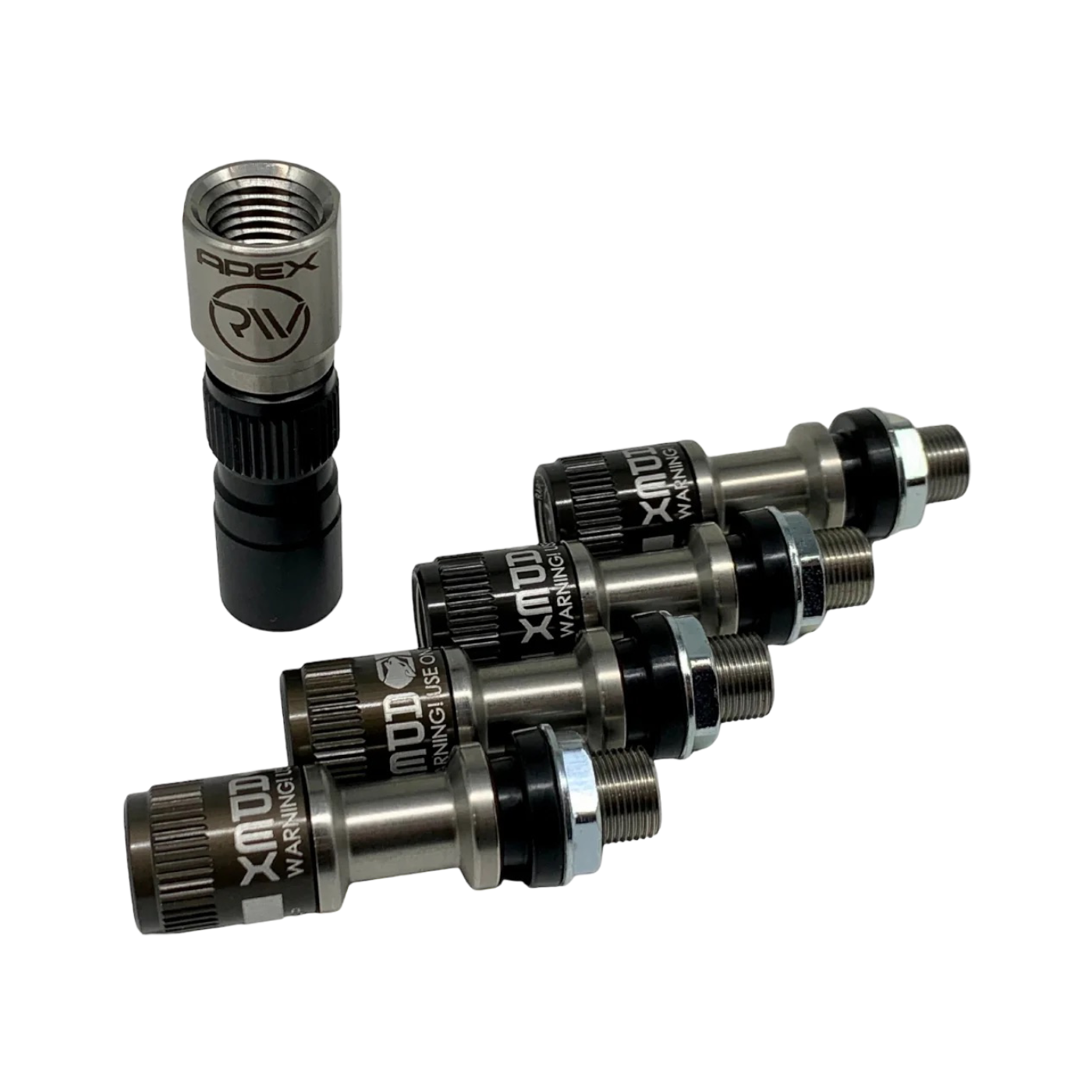 R.I.V. XL LENGTH (INFLATE)
Air up FAST with the PATENT PENDING Apex Rapid Inflate Valve! You can expect sub 10 second air-up times when paired with a compressor at 120 PSI and 10CFM! 
FOR DUAL VALVE-STEM WHEELS ONLY

1) LARGE SHOP COMPRESSOR
At 120psi and 10 CFM you can expect sub 10 sec air up time for 37-39" tires. Use high flow fittings and inflators for best results.

2) ONBOARD AIR
Inflation times will depend on CFM of compressor and psi. Because there is little to no pressure drop across the Schrader valve, the work the compresser has to do is greatly reduced. This will result in fast inflation times as well as longer compressor life. Heat produced by the compressor is also greatly reduced so duty cycle increases.
Due to lower CFM of onboard air compressors smaller fill lines may be used. 0.188" ID is the smallest that should be used.

3) AUTO SHUT-OFF
By using an air regulator and setting to the desired pressure, the compressor will shut off when desired set pressure is met.
This will reduce inflation speed a little depending on compressor used. 10-20% longer time. The ability of not having to monitor pressure is a nice convenience.

NOTE:
If not using the auto shut-off ability of the valve, you can use a gauge on the opposite valve to monitor inflation pressure. 
WE WILL NOT SHIP TO PO BOXES/FREIGHT FORWARDERS/PARCEL SERVICES. If the system recognizes your shipping address as one of the above, your order will be cancelled and method of payment refunded.

Shipping:  A new order will be shipped up to 5 business days from the date the order placed (not including weekends or after hours). This processing time needs to be added to shipping estimates for an accurate estimate of delivery. For example: if you purchase 2 day priority shipping, you will receive your order in 3-7 business days. Customers will receive an email with tracking once order ships.  Please check your spam folder if you do not see anything within the 5 business day timeframe.


APEX does not guarantee common carrier shipping times or estimates. Shipping costs are non-refundable.
Recently viewed products
Continue where you left off
Wow, super fast inflation
I had created a 4-way inflation hose and would inflate/deflate all 4 tires at once. Even cutting the inflation time by 4 by doing all at the same time, it takes less time to inflate my 40's one at a time with the R.I.V. I use the same compressor and have to move from wheel to wheel, but the over all process takes less time. Amazing. I wish I had 3 more chucks...